You must allow cookies and JavaScript for a proper shopping experience.
Price: ¥1,000
Publisher: US, Vintage : 1989
Seller ID: RWARE0000063361
ISBN-13: 9780679724674
Binding: Paperback
Condition: Very Good
---
A copy that has been read, but is in excellent condition. Pages are intact and not marred by notes or highlighting. The spine remains undamaged. This powerful and impassioned history of the Haitian Revolution of 1791-180 3 is the classic account of the largest successful revolt by enslaved peopl e in history. "One of the seminal texts about the history of slavery and abolition. . . . Provocative and empowering." -The New York Times Book Review The Black Jacobins, by Trinidadian historian C. L. R. James, was the first major analysis of the uprising that began in the wake of the storming of the ...
View More...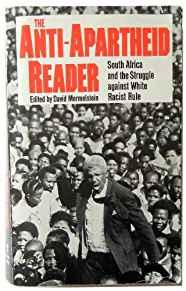 Price: ¥750
Publisher: US, Grove/Atlantic, Inc : 1987
Seller ID: RWARE0000046910
ISBN-13: 9780802151018
Condition: Very Good
---
This collection will be a useful companion to Roger Omond's The Apartheid H andbook ( LJ 1/86), giving detail to some of the statistics and definitions found there. One could argue about some choices for inclusion. For example , there is nothing written by a black South African in the section on scena rios for the future. Surely more than one brief interview with ANC leader O liver Tambo could have been included. Current material from the United Demo cratic Front and the new Congress of South African Trade Unions (organized in 1985) would have been valuable. Other material from 1985 and 1986 i...
View More...