You must allow cookies and JavaScript for a proper shopping experience.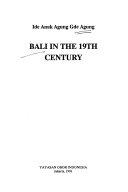 Price: ¥600
Publisher: Jakarta, Yayasan Obor Indonesia : 1991
Seller ID: RWARE0000044505
ISBN-13: 9789794610763
Binding: Paperback
Condition: Good
---
Includes bibliographical references (p. 272-279) and index.
View More...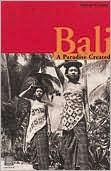 Price: ¥600
Publisher: US, Periplus Editions (HK) ltd : 1999
Seller ID: RWARE0000044504
ISBN-13: 9780945971283
Condition: Very Good
---
The Island of Bali-a true paradise is explored in this classic travelogue. From the artists and writers of the 1930s to the Eat, Pray, Love tours so p opular today, Bali has drawn hoards of foreign visitors and transplants to its shores. What makes Bali so special, and how has it managed to preserve its identity despite a century of intense pressure from the outside world? Bali: A Paradise Created bridges the gap between scholarly works and more p opular travel accounts. It offers an accessible history of this fascinating island and an anthropological study not only of the Balinese, but of the...
View More...